ANNOUNCEMENTS
14 days ago
BREAKING NEWS....
The Firebird Newspaper has arrived! Mrs. Murray's publications class has been hard at work creating Firebird News. Catch up on student and teacher interviews, sports updates, and much more. Click the Firebird News link under School Resources. Great Job Firebirds.
Inviting Crafters and Vendors:

You are invited to join Johnson Jr. High School's Annual Christmas Craft Bazaar on November 18, 2017. For more information please contact Ursula Abeyta at 307-771-2640 or ursula.abeyta@laramie1.org. We look forward to hearing from you.




Recognizing Positive Behavior

If a student is caught doing something positive they receive a "Caught ya" card stating what they were caught doing. They give the card to the grade level principal and they get a snack. They are also entered in the weekly drawing. The drawing takes place on Friday mornings after the pledge. If their name is drawn they get to choose either a Johnson sling backpack or Johnson water bottle.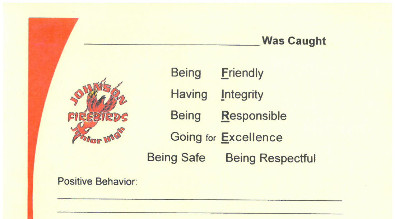 ADMINISTRATOR'S PAGE
3 months ago
Fall Sports
8 days ago
Girls Basketball : Brook Yearsley - 7A Chad DeBruyn - 7B Phil Vigil - 7C
Regan Dulaney - 8A Bob Reece - 8B Roger Zwonitzer - 8C

Wrestling : TJ Castillion Charles Jackson