ANNOUNCEMENTS
5 months ago
January 21, On This Day in History

1848 John Quincy Adams suffers a stroke
1885 Washington Monument dedicated
1948 NASCAR founded
1965 Malcolm X assassinated
1970 Kissinger begins secret negotiations with North Vietnamese
1981 Dolly Parton cements crossover success as move "9 to 5" hits #1

Recognizing Positive Behavior

If a student is caught doing something positive they receive a "Caught ya" card stating what they were caught doing. They give the card to the grade level principal and they get a snack. They are also entered in the weekly drawing. The drawing takes place on Friday mornings after the pledge. If their name is drawn they get to choose either a Johnson sling backpack or Johnson water bottle.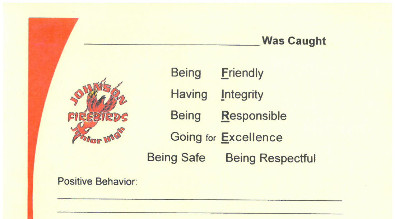 ADMINISTRATOR'S PAGE
5 months ago
Counselors Corner
5 months ago
6th Grade Registration

The 7th grade counselor will be at the elementary schools to register the 6th grade students for the 17/18 school year. Please check the following dates and times to know when he will be at your child's school.
Hebard, February 8th at 9:00 AM
Rossman, February 8th at 1:00 PM
Sunrise, February 9th at 9:00 AM
Afflerbach, February 9th at 1:00 PM
Fairview, February 13th at 9:00 AM
Cole, February 13th at 1:00 PM
Bain, February 14th at 9:00 AM
Goins, February 14th at 1:00 PM
Arp, February 15th at 9:00 AM